There are no more items in your cart
Shipping

Free

Total

€0.00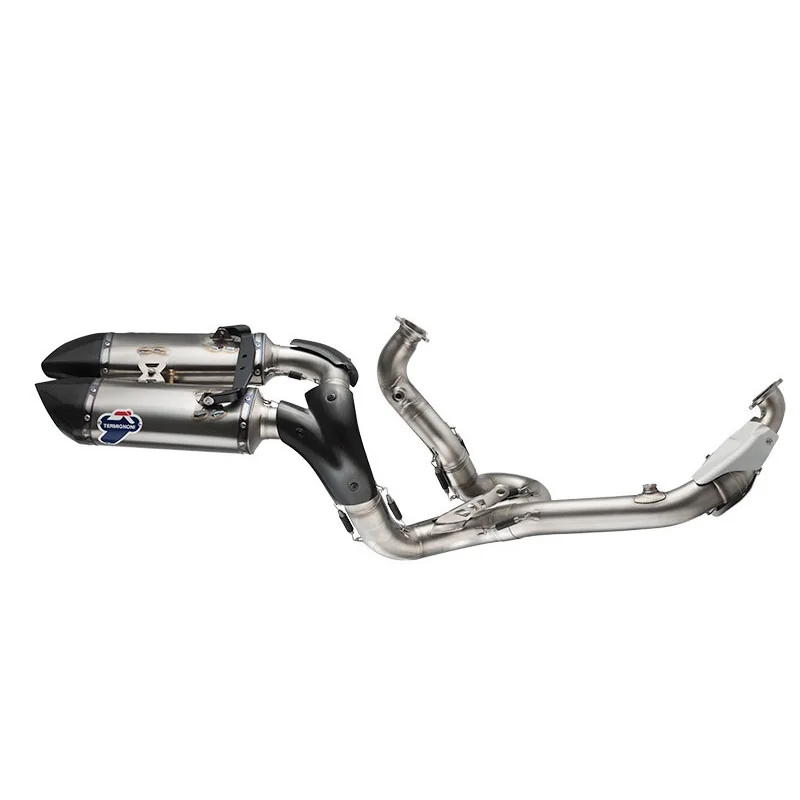  
Exhaust Termignoni Ducati 1199 Panigale
Compatibility: Ducati 1199 Panigale 2012/2018
D17009400ITC
Full Sport Exhaust System Force
ALL PRODUCTS ARE SHIPPED FROM ITALY WITH EXPRESS COURIER.

NOT ALL THE PRODUCTS ARE AVAILABLE IN STOCK. REQUEST AVAILABILITY.
Exhaust Ducati Panigale 1199 Termignoni
Termignoni Ducati 1199 Panigale
Full Sport Exhaust System Force
Fitting Kit included in the price.
Made in Italy 100%.
The exhaust is characterized by the main structure in stainless steel, titanium sleeve and rear carbon cap.
The titanium bush are machined with CNC and give to the exhaust more resistance. In the box are included two carbon heat shield.
In terms of performance it offers:
an increase of power ( + 4,6 Hp at 10.000 rpm) and torque (+ 0,81 Nm at 10.000 rpm).Increase +13,4 CV at 5,400 rpm
The complete system offers a reduce of weight (- 3,377 kilos)
NOTE
Remember that the original plate holder and passengers foot pegs , don't fit with complete system Termignoni code D170.
It will be possible to buy aftermarket our dedicated license plate support racing code D170PT, to substitute the original.
For Search:
Exhaust Exhausts Silencer Silencers Muffler Mufflers Silencer Silencers
Termignoni is an Italian company based in Predosa, in the province of Alessandria and has a long and exciting history. Founded in 1968 by Domenico Termignoni, who began his career as a motorbike mechanic and soon discovered his passion for motorbike engineering and component design, the company has grown to become a world leader in the production of motorbike sports exhausts.
Termignoni's commitment to quality and innovation is evident in each of its products, which are designed to enhance motorbike performance and offer a unique and distinctive sound.
These products are used successfully by professional riders and motorbike enthusiasts around the world, and have been official sponsors of some of the biggest MotoGP and Superbike teams.
Termignoni products, including exhaust pipes, headers, complete exhaust systems and accessories, are available for a wide range of motorbike models, including Ducati, Aprilia, BMW, Honda and Yamaha.
Designed and manufactured in Italy using the best materials and technologies, each product undergoes rigorous quality controls before being put on sale.
If you are a motorbike enthusiast and want to improve the performance of your vehicle, Termignoni products are an excellent choice.
We advise our customers to contact us in advance for information on production and delivery times, and for any doubts about compatibility with your motorbike.
Product photos and technical details, if available, can be found within each individual product sheet.
ALL PRODUCTS ARE SHIPPED FROM ITALY WITH EXPRESS COURIER.

NOT ALL THE PRODUCTS ARE AVAILABLE IN STOCK. REQUEST AVAILABILITY.
3 other products in the same category:
Brand: Termignoni
Reference: D155102CPT + D155Y
Compatibility: Ducati 1199 Panigale 2012/2016
D155102CPT + D155Y
Titanium CUNB
Price
€2,217.04
Regular price
€2,842.36
 In stock
Brand: Termignoni
Reference: D155COLLT A
Compatibility: Ducati 1199 Panigale 2012/2019
D155COLLT
Racing Collectors Kit For D155102CPT
Price
€2,292.31
Regular price
€2,938.86
 In stock
Brand: Arrow Exhaust
Reference: 71836PK
Compatibility: Ducati 1199 Panigale 2012 - 2015
71836PK
Works
Price
€1,363.55
Regular price
€1,662.86
 In stock
Other Products - Ducati Panigale 1199